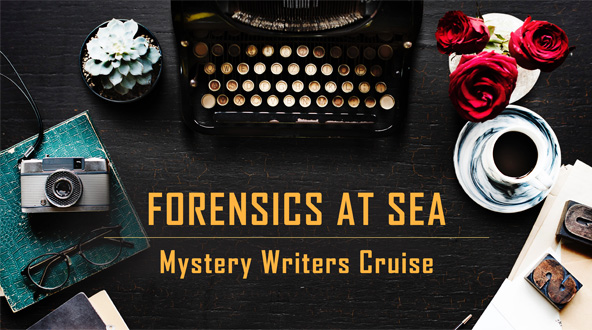 GET READY FOR THE ULTIMATE
MYSTERY WRITER'S EXPERIENCE.


Get ready for the ultimate writer's experience. Learn from published author Elizabeth Sims in-depth insights into writing a great mystery and hear from real-life forensic investigators Kelly Gillis and Jeffry Mouer. But wait, there's more? Take part in examining mock crime scenes throughout the week along with a series of seminars and workshops geared toward making your writing not only detailed and accurate, but also marketable! Don't forget you will get to experience all of this while enjoying a fabulous 7-night cruise through the Caribbean aboard Royal Caribbean's Oasis of the Seas.




OASIS OF THE SEAS
March 31-April 7, 2019
7-Nights Cruise to the Western Caribbean


| | | | |
| --- | --- | --- | --- |
| DATE | PORT | ARRIVE | DEPART |
| Mar 31 (Sun) | Port Canaveral, FL | | 4:30pm |
| Apr 1 (Mon) | At Sea | | |
| Apr 2 (Tue) | Labadee, Haiti | 8:00am | 4:30pm |
| Apr 3 (Wed) | Falmouth, Jamaica | 10:00am | 6:00pm |
| Apr 4 (Thu) | At Sea | | |
| Apr 5 (Fri) | Cozumel, Mexico | 7:00am | 6:00pm |
| Apr 6 (Sat) | At Sea | | |
| Apr 7 (Sun) | Port Canaveral, FL | 6:00am | |
Cruise Package (Earlybird Rates)
Inside Cabin
From $1063 per person
Balcony Cabin
From $1243 per person
Pricing includes cruise fare, all taxes and fees, and registration for all seminsars, workshops, and activities. Based on double occupancy (2 guests per cabin).


Ship Highlights Include
10 Bars including the Schooner Piano Bar and Dazzles Lounge
Nightly production shows including Iceskating, Cats, and Aquatheater acrobatic show
Adults-only Solarium
Flowrider surfing at sea
Zipline and rock climbing wall
Spa and fitness center
Outdoor movie nights
Live music and jazz band

Shopping and dance classes

TO BOOK, PLEASE REGISTER BELOW!


More About the Experience

Mysteries and thrillers are the most exciting forms of fiction being written today, with millions of readers eager for new stories. Especially in today's digital-boom market, agents and editors are hungrily searching for fresh talent. The ideal writer possesses a command of the English language, a good working knowledge of the mystery/ thriller form, and a spark of imagination that makes his or her manuscript stand out like a beacon.

Join successful mystery novelist and writing authority Elizabeth Sims as she de-mystifies the mystery and thriller forms and shows how you can start with a basic idea for a story and build a novel-length plot from there. You'll learn a unique way to brainstorm and write useful chunks of draft material, which will be valuable whether you're just beginning or have work in progress. You'll find out why subplots are so important in these genres and how to weave them into your main plot. You'll also learn how to make your characters and settings come to vivid life. Newbie pitfalls and how to avoid them will round out this exciting ocean-going workshop!

Instructor and author Elizabeth Sims has helped thousands of writers to enrich their work, expand their talents, and learn the elements of wildly successful fiction.

Who Should Sign Up?

Aspiring writers with a cool idea for a mystery or thriller who need help developing their material into a professional, complete story.
Writers with a partial or whole manuscript who want to improve it.
Writers whose work has been rejected by agents and editors.
Writers who need an encouraging expert to help kick-start their work!
Writers who have specific questions about writing mysteries or thrillers who want the expertise to add more professionalism to their stories.
Writers who want to have a fun learning experience!


Our Exciting Seminars, Workshops and Sessions will feature:

Brainstorming sessions for writing useful chunks of draft material
Television VS Reality: Make your story real!
Newbie pitfalls and how to avoid them
A Day in the Life of a Coroner: No Guts, No Glory
Creating a compelling plot from one initial idea

How to weave subplots into your main plot

A Day in the Life of a Forensic Investigator

What a crime scene tells you and HOW it tells you

How to avoid clichés in descriptions

Bringing Bones to Life: A true story

You've Got a Book in You: How to publish

How to make your charachters and settings come to vivid life




ELIZABETH SIMS


AWARD-WINNING PUBLISHED AUTHOR





Elizabeth Sims learned the art of fiction by listening to tall tales on her father's knee, and by reading all sorts of books brought home by her mother, a teacher. (These ranged from Grimm's Fairy Tales to the Canterbury Tales, from Laura Ingalls Wilder to Ernest Hemingway.) She started life in Wyandotte, Michigan, and has lived in Detroit, San Francisco, rural Washington state, and currently Bradenton, Florida.

Elizabeth is the author of the Rita Farmer Mysteries, the Lambda and GCLS Goldie Award-winning Lillian Byrd Crime Series, and other fiction, including the standalone novel Crimes in a Second Language, which won the 2017 Florida Book Awards silver medal in general fiction. Her work has been published by a major press (Macmillan) as well as several smaller houses, and she's written short works for numerous collections and magazines. She publishes independently under her personal imprint, Spruce Park Press.

In addition, Elizabeth is an internationally recognized authority on writing. She's written dozens of feature articles on the craft of writing for Writer's Digest magazine, where she's a contributing editor. Her instructional title, You've Got a Book in You: A Stress-Free Guide to Writing the Book of Your Dreams (Writer's Digest Books) has been specially recognized by National Novel Writing Month and hundreds of other web sites and bloggers. Her weekly blog, Zestful Writing (esimsauthor.blogspot) has been included in top-100 blog lists. When time permits, she teaches creative writing at Ringling College of Art and Design in Sarasota, Florida, as well as at conferences and workshops around the United States. Her signature teaching style combines solid information, workable techniques, humorous insights, and an extra dose of good cheer.

Elizabeth earned degrees in English from Michigan State University and Wayne State University, where she won the Tompkins Award for graduate fiction. She's worked as a reporter, photographer, technical writer, bookseller, street busker, ranch hand, corporate executive, certified lifeguard, and symphonic percussionist. She is represented by the Donald Maass Literary Agency. Elizabeth belongs to several literary societies as well as American Mensa.
KELLY E. GILLIS
CORONER AND
FORENSIC ANTHROPOLOGIST



Kelly E. Gillis, M.A., F-ABMDI has been a Chief Deputy Coroner and Forensic Anthropologist for almost twenty years. She is responsible for medicolegal death investigations of any death that is deemed unnatural, suspicious, homicide, suicide, infant death, or the natural death of a person unattended by a physician.

Kelly also conducts scene investigations that include collection of evidence, photographing the scene, documentation of the scene, disposition of the remains, and collaborating with law enforcement officials. The collection of evidence from human remains is an important aspect of this position and includes drawing fluids for toxicology testing, fingerprinting, collecting hair samples, and DNA samples.

Kelly has a master's degree in Anthropology from Louisiana State University. In the past, Kelly has been called upon to conduct forensic anthropological analysis in cases involving juvenile victims. Kelly is also an instructor for TriTech Forensics and travels to different police departments to train police officers in identifying human from non-human bones.




JEFFRY A. MOUER
POLICE OFFICER AND
CRIME SCENE INVESTIGATOR



Jeffry A. Mouer is a Retired Police Officer from the City of Bethlehem PA Police Department and served the City for 20 years as well as 2 other juridictions. While working for the City, he started as a Patrol Officer working in low-income housing then did a walking/bicycle beat in another part of the City.

His career continued by performing Criminal Investigations eventually starting the City's first Forensic Crime Scene Unit. There were several different tasks performed in the Forensic Unit, which included in-house and on-scene evidence documentation and collection, fingerprint identification and follow-up interviews of suspects and victims. He was certified as an expert finger print analysis in local and Federal Courts and had the only Municipal AFIS Machine installed and operated by himself.

He started the first Arson Investigator program that worked with the City of Bethlehem Fire Department. He was a technical Consultant to MedStar Television (produced Forensic Files) and acted in several of the reenactments for the show.


Call Go Travel - (407) 583-6505 Dial #1
Visit GoTravel.com/forensicsatsea for more details.