TRULY MOVING TRAIN JOURNEYS

For 30 amazing years, Rocky Mountaineer has been transporting guests through the grandeur of the Canadian Rockies. They are a daylight-only train that operates from April to October, offering breathtaking landscapes, outstanding service, gourmet food and passionate hosts with stories to tell. It's your once-in-a-lifetime opportunity to discover wildlife and majestic mountains from your spacious, glass-dome coach, while awakening emotions of nostalgia for luxurious train travel. Once the sun goes down, the fun doesn't stop just because the train does. You'll explore your brand-new surroundings and end the day with a restful night's sleep in your hotel. Get set for an adventure you won't soon forget. For many, it's the journey of a lifetime.

Click on the video below to hear more from Rocky Mountaineer representative, Paul Corrigan, about the company's breathtaking adventures.




UPCOMING PRESENTATIONS
Join one of our local presentations in Central Florida hosted by your Go Travel team as well as a local Rocky Mountaineer executive who will provide an in depth discussion about these amazing train adventures. Please RSVP below if you would like to attend.
Click below to make an inquiry online.
Or call (407) 774-2229 to speak with a specialist.



THE ROCKY MOUNTAINEER
GOLDLEAF EXPERIENCE
You climb aboard the bi-level coach and find yourself in the lap of luxury. Your reclining seat is sumptuous, the incredible glass dome is truly panoramic, and the hosts are smilling with an experienced ease that makes you feel instantly at home. As the train passes through the rapidly changing landscape, you bite into a fresh mouth-watering scone and raise your glass-toasting the beginning of a breathtaking journey.
Before long, you head down to the lower-level dining room for a hot breakfast that leaves you feeling the warm glow of satisfaction. Buzzing with excitement, you sit back with your new friends and enjoy the view. Then, just when you thought you couldn't get any closer to nature, you visit the exclusive viewing platform and step into the great outdoors. The fresh air washes over you and you feel an incredible sense of peace and contentment.
When lunchtime arrives, you head back down to the dining area where Executive Chefs have designed an à la carte menu using seasonal ingredients. You chat to fellow travelers from all over the world as you sample an exquisite three-course meal. When you return to your seat, your host recounts historic tales of the Rocky Mountains and you enjoy gourmet snacks.
You gaze out at passing wildlife as the train ascends to the breathtaking heights of the Canadian Rocky Mountains. When the day slows and the sun goes down, you are transported to your hotel to rest in comfort, and emerge fresh and ready for tomorrow's wonders.
Time for bed. After a perfect day on the train, with all senses stimulated, you'll be ready to close your eyes and dream about all you've seen. Each night, you can enjoy the comfort and class of one of Rocky Mountaneer's preferred hotels in each of their beautiful destinations. That way, you can explore the region's cosmopolitan cities and picturesque towns without giving up a single minute of your beauty sleep. After all, you will want to be awake and alert onboard, so you don't miss a moment of the magic unfolding beyond your window.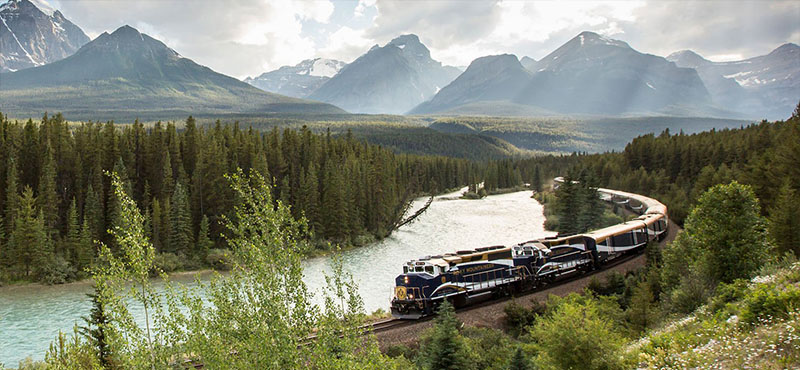 Click below to make an inquiry online.
Or call (407) 774-2229 to speak with a specialist.

Highlights of Rocky Mountaineer's GolfLeaf Service:
Bi-level dome with seating above and dining below
Full glass-dome windows with panoramic views
Gourmet à la carte meals win the lower-level dining room
Reclining, comfortable pre-assigned seating with ample leg room
Attended by four hosts, plus a full culinary team
Complimentary alcoholic and non-alcoholic beverages
Gourmet sweet and savoury snacks
Large, exclusive outdoor viewing platform
Enaging hosts with stories about historic sites, flora, fauna, and wildlife
Complimentary baggage delivery to your overnight hotel in Whistler, Quesnel, and Kamloops