THE ITINERARY

Cruise along the peaceful Danube River through Germany, Austria, Slovakia, and Hungary—stopping at some of Central Europe's most splendid capitals and charming towns along the way. Below, we give you just a taste of some of the highlights.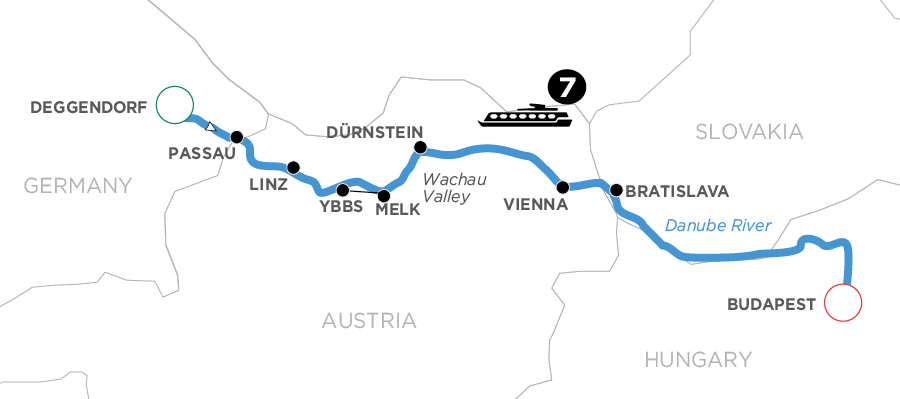 DEGGENDORF (Germany)
Embark the Avalon View in Deggendorf, known as "the gateway to the Bavarian Forest." The town includes both the lowlands on either side of the Danube river as well as the foothills which rise towards the mountains on the Czech border.
PASSAU (Germany)
Visit Passau, Germany—called the "City of Three Rivers" at the confluence of the Danube, Inn, and Ilz rivers. Take a guided walking tour to admire the Patrician houses and baroque St. Stephen's Cathedral.
LINZ (Germany)
In Linz, Austria, walk around the Hauptplatz, Austria's largest medieval square.
YBBS (Austria)
Enjoy the magnificent views as your Danube River cruise takes you through the picturesque wine region of the Wachau Valley. Stops include Melk to visit the magnificent Benedictine Abbey and Dürnstein to see the famous blue and white Stiftskirche and taste some of the local wines.
VIENNA (Austria)
Vienna, the "City of Music," makes an immediate impression with its lavish Hofburg Imperial Palace and neo-renaissance Vienna Opera House. Enjoy a guided tour of this magical city and take time to explore on your own.
HAINBURG-BRATISLAVA (Austria)
In Bratislava, the capital of Slovakia, take a guided walk through the delightful Old Town and to the Gothic St. Martin's Cathedral.
BUDAPEST (Hungary)
hen to round out this timeless European river cruise, take a stroll along Váci utca—the main shopping street, or take pictures from Fishermen's Bastion for the best panoramic views of Budapest.